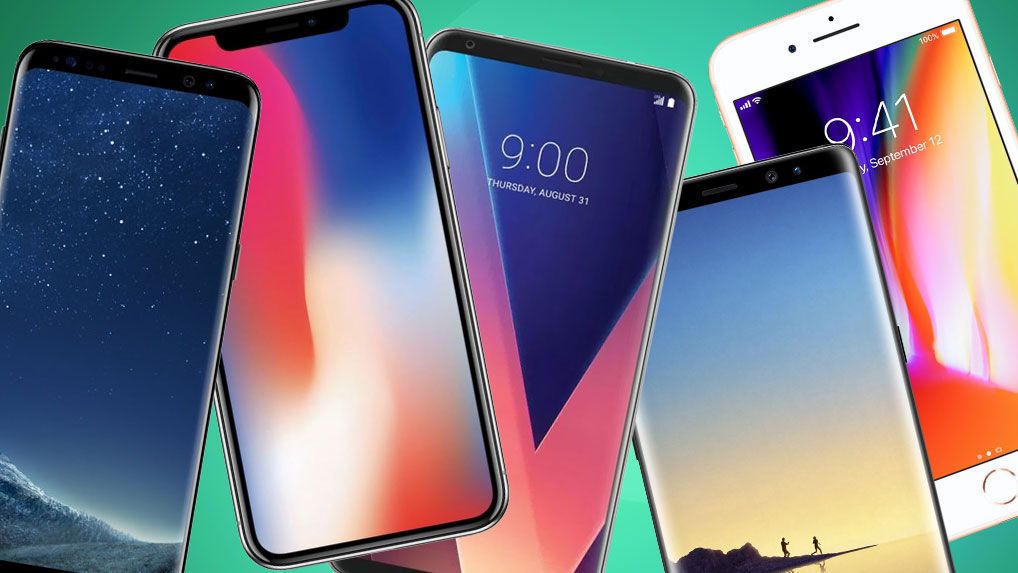 UPDATE: Samsung's astonishing Galaxy S10 Plus has taken the top spot in our list of the best phones of 2019 – read on below to find out why we love it!
2018 was a stellar year for smartphones, and while 2019 is set to be even better, there's no denying that last year's phones are still top notch (literally, in some cases). 
Last year's launches of the iPhone XS and the  Samsung Galaxy Note 9 have made the humble smartphone faster, more powerful and even more versatile than ever before.
Here at TechRadar, we check out almost every phone under the sun, putting the ones that matter through our vigorous testing process to create our in-depth mobile phone reviews.
However, with so many to choose from, we've spent hours whittling them down to a top ten, taking into account power, specs, design and value for money. And we'll always point you in the direction of the latest handsets – after all, nobody wants to be carting around a phone that doesn't get any updates in a year's time, right?
So whether it's one of the many slick Android handsets, the latest iPhone or one from a range of other cool manufacturers, we've extensively tested them all so you don't have to!
Here are our rankings for the best smartphones that are currently available in Australia in 2019.
Image 1 of 5
Image 2 of 5
Image 3 of 5
Image 4 of 5
Image 5 of 5
1. Samsung Galaxy S10 Plus
Samsung's greatest Android phone
Release date: March 2019 | Weight: 175g (Ceramic 198g) | Dimensions: 157.6 x 74.1 x 7.8mm | OS: Android 9 | Screen size: 6.4-inch | Resolution: 1440 x 3040 | CPU: Exynos 9820 | RAM: 8GB / 12GB | Storage: 128GB/512GB/1TB | Battery: 4,100mAh | Rear camera: 12MP + 12MP + 16MP | Front camera: 10MP + 8MP
Stunning display
in-display fingerprint sensor
Reverse wireless charging
Awkward power button placement
Bixby button still around
Now in its tenth generation, Samsung's Galaxy S range has just about reached the pinnacle of traditional smartphone design with the Galaxy S10 Plus. Boasting the world's best display, advanced ultrasonic security, reverse wireless charging, exceptional performance and its most impressive camera setup to date, it's difficult to see where non-folding smartphones can go from here. Combined with Samsung's new Android 9 Pie-based One UI, the S10 Plus really feels like the ultimate Galaxy phone – it's no wonder the South Korean electronics giant is ready to embrace a foldable future.
Screen: Regardless of where you stand on the notch vs pinhole debate, you're likely to be floored by the S10 Plus' almost completely bezel-free display when you see it in person for the first time. 
With its 93.1% screen-to-body ratio, the S10 Plus' pill-shaped pinhole camera is far less obtrusive than you might assume from simply seeing renders of the device – with One UI's dark mode switched on, the pinhole practically disappears during a large portion of the phone's daily usage. 
As we've come to expect from each new Galaxy phone, the S10 Plus' QHD+ Super AMOLED screen is brighter and more vibrant than ever before (it's the first Samsung phone to support HDR10+), though its biggest update comes in the form of an in-display ultrasonic fingerprint sensor, which uses sound waves to create a 3D scan of your prints for more accurate and secure unlocks.
Design: In terms of build quality, the Galaxy S10 Plus is still sandwiched between two gorgeous pieces of Gorilla Glass, although the device's frame has seen an upgrade from aluminium to stainless steel, making this year's model altogether more sturdy. 
The 3.5mm headphone jack and microSD card slot each make a very welcome return this year, though the S10 Plus's design isn't without its flaws – Samsung's still sticking with its dedicated Bixby button this year, and for some reason, the power button's placement is now awkwardly high on the device's right edge, making it difficult to reach unless held a specific way.
Performance: A significant step up from the 3,500mAh battery featured in last year's S9 Plus, the S10 Plus' whopping 4,100mAh battery takes the crown previously held by the Note 9, making it the largest Samsung has ever placed in a phone. Even at 80% brightness and with the display's resolution set to QHD+, we've always managed to get a full day's use out of the device with some battery to spare.
The Exynos 9820 chipset and 8GB of RAM featured in the base model S10 Plus offers snappy app-switching, effortless multi-tasking and excellent gaming performance, producing buttery smooth gameplay in Fortnite at 60FPS while on the 'epic' graphics setting. Of course, Galaxy S10 Plus models with up to 12GB of RAM are also available.
Camera: Samsung pulled out all the stops for its latest flagship's cameras this year, sporting a triple lens setup on the device's rear – that's a 12MP regular lens, a 12MP optically-zoomed telephoto lens, and an eye-opening 16MP ultra-wide lens which is said to have a field of view that's similar to the human eye.
On the front of the device, the S10 Plus features a dual lens camera setup, with a 10MP primary camera and an 8MP depth sensor, allowing users to take bokeh self-portraits and photos with other effects. All of this is once again backed by Samsung's AI-based scene optimiser, which is able to recognise objects and automatically adjust the camera's settings, as well as show shot suggestions to improve your photos.
Mini verdict: Without a doubt, Samsung's Galaxy S10 Plus is the best phone of 2019 so far, impressing with its breathtaking display, refreshed user interface, excellent battery life, terrific performance and carefully considered design choices. Simply put, the Galaxy S10 Plus is the phone to beat this year.
Read the full review:Samsung Galaxy S10 Plus
See the best Samsung Galaxy S10 Plus telco plans
See the best Samsung Galaxy S10 Plus outright deals